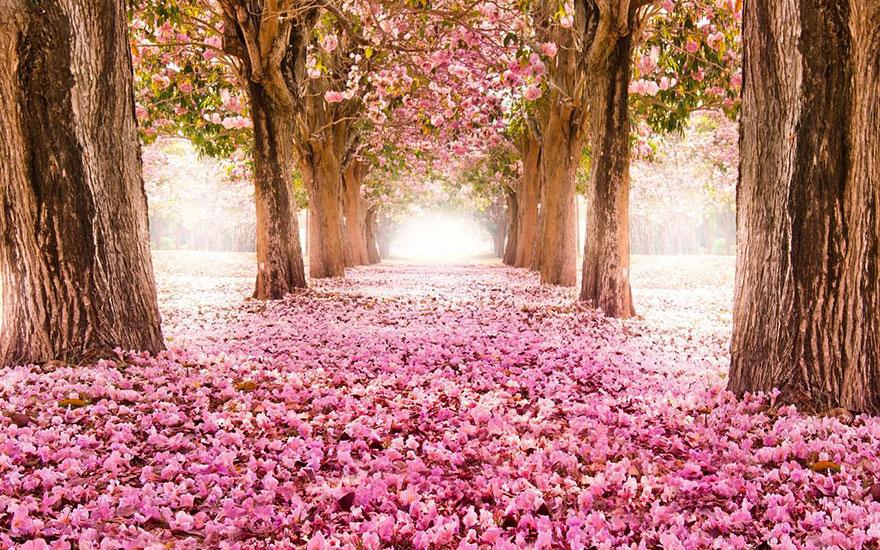 15 Amazing Tree Tunnels You Should Definitely Walk Beneath
It is really awesome to walk in tree tunnels, where you are surrounded by nature, instead of walking in the roads surrounded by buildings. This article will show you 15 fascinating tree tunnels you must see. Some were created naturally and some were created by humans.
1. The Dark Hedges(Northern Ireland)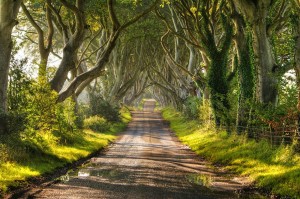 This incredible  tunnel  was created 3 centuries ago by Stuarts, who desired to build a fascinating scene, which would lead to their house. This tunnel is a great source of inspiration for artists, tourists and so on.
2. Cherry street in Bonn(Germany)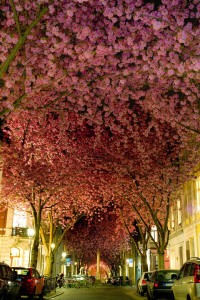 This is a great scene that you can see when you visit Bonn during spring. The cherry blossoms give a magic view to the street, but unfortunately this scene lasts two – three weeks. So, you should choose the right moment to go there.
3. Tunnel of Love(Kleven, Ukraine)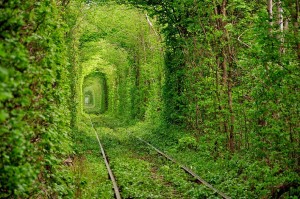 This amazing tunnel is a great place for lovers and it's said that if they truly love each other and if they make a wish there,  it will definitely come true.
Yew tree tunnel(Carmarthenshire)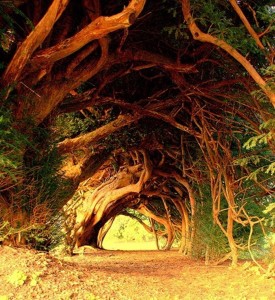 This awesome tree tunnel, which is a great one to visit,  is said to be planted by Dyers in the 18th century.
Wisteria Flower Tunnel(Japan)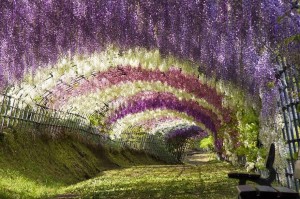 This is just an amazing scene, which each of us should visit in order to see the real beauty. The most convenient time to visit there is in Spring, when the flowers are blooming.
Bamboo Path(Kyoto, Japan)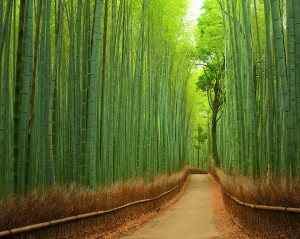 This great tunnel separates itself from the others, because instead of ordinary trees, this path is surrounded by bamboos. This place is considered to be the most visited one by tourists in their city.
Sakura Tunnel(Japan)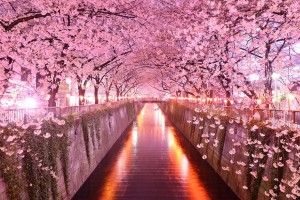 Like in Bonn, Germany, in Japan there also exists a cherry blossom tunnel, which is more longer and looks like a dream.
The Path up to the Halnaker Windmill( Sussex, England)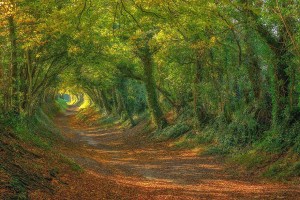 This is probably one of the best tree tunnels, because when you walk beneath, you will think that there is no end there, as you are fully surrounded by trees. This is a great place for painters, photographers, artists and tourists to come.
Ginkgo Tree Tunnel(Tokyo)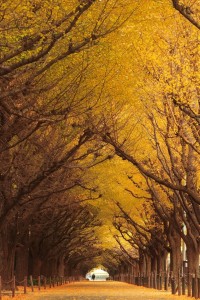 This is another great tree tunnel in Japan, where you will be able to fully relax. The right period to go there is autumn, when the leaves are becoming yellow and falling on the ground.
Gormanston(County Meath)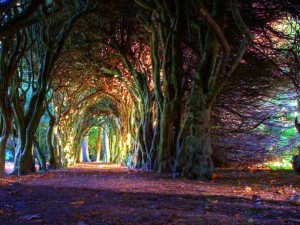 This breathtaking tree tunnel is in Ireland, in the village of Gormanston which is near the Delvin river.
Sena De Luna(Spain)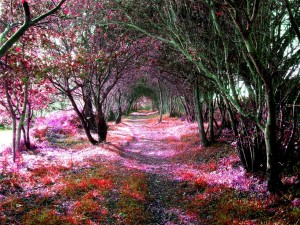 This amazing tunnel is in one of the small villages of Spain, Sena De Luna, which is another great place to go.
Oak Alley(Louisiana)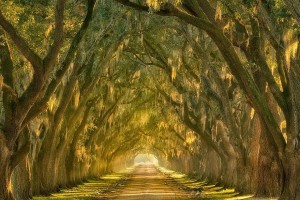 This is another tree tunnel, which is about eight hundred feet long and which is really worth visiting.
Jacarandas Walk(South Africa)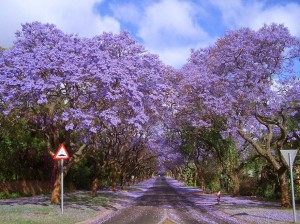 This is a famous sightseeing in South Africa, where tourists are used to come. This tunnel is about hundred years old. It's considered to be the largest tree tunnel that was build by people and contains about 80000 trees.
Street in Porto Alegre(Brazil)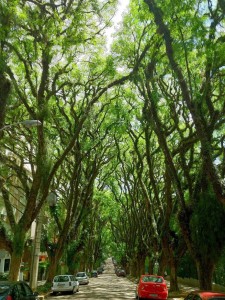 This street, Rua Goncalo Carvalho, is considered to be "the most beautiful street in the world" and it's really obvious why it is so.  About 300 tall trees are located on the street, which are so high that can even reach the 8th floor of the buildings.
Tree Tunnel(Netherlands)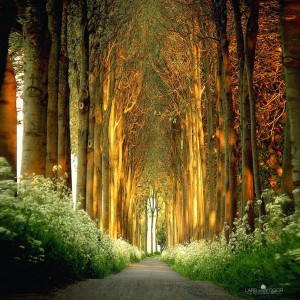 This is another great tree tunnel which has a very mysterious atmosphere and becomes to something like magic when you walk beneath.
So, here are the 15 best tree tunnels in the world that you MUST see. Are there any that you have already visited? If so, please share your impressions with us.
Here's another article you might like:  10 Examples of Cool and Remarkable Transparent Objects